Stars: Tom Cruise, Henry Cavill, Ving Rhames, Simon Pegg, Rebecca Ferguson, Sean Harris, Alec Baldwin, Angela Bassett, Michelle Monaghan.
Director: Christopher McQuarrie
The plot:
In the first of the series to actually follow on from the events of the previous movie, Ethan Hunt (Tom Cruise) and his team have to pull off another daring raid after a mission to intercept some plutonium destined for the hands of a syndicate of terrorists, known as "The Apostles",  is unsuccessful and the plutonium slips through their grasp.
The cast:
We don't really need to talk about what Tom Cruise brings to the table.  The MI movies are his baby and these movies are, for the most part, what he does best.  I think he has come in for some unfair criticism over his career but I've always enjoyed his films, again for the most part.  His energy and dedication to the Ethan Hunt role cannot be in any way questioned.  He always give his best to these movies.  The same cannot be said of Henry Cavill, I'm pretty sure he has already been on the end of some harsh words from me already in previous reviews, not least the awful Batman Vs Superman.  He's just awful.  He reminds me of an old shelf unit that used to hold some of my VHS collection, sturdy and functional but totally made of wood.  It was good to see Rebecca Ferguson & Sean Harris reprise their roles from Rogue Nation, particularly Harris.  He's probably little known to most but he's been on my radar for some years in plenty of British television.  He always makes for an excellent unsavoury character and it was very pleasing to see him back and enjoying a larger chunk of screen time.  Back to the negative and Simon Pegg, the way they have developed his character, Benji, just doesn't fit.  He's not action movie material in terms of being in the field and is much more suited to the geeky tech guy in support but I think this is reflective of Pegg's somewhat misplaced celebrity status and friends in the right places that his roles are becoming more involved.  It's a shame, I don't want to be negative about Pegg, I love his earlier comedy work and collaborations with Edgar Wright but I can only review what I watch.  I was also a little disappointed that Jeremy Renner was missing in Marvel action as I feel he slots into the team really well.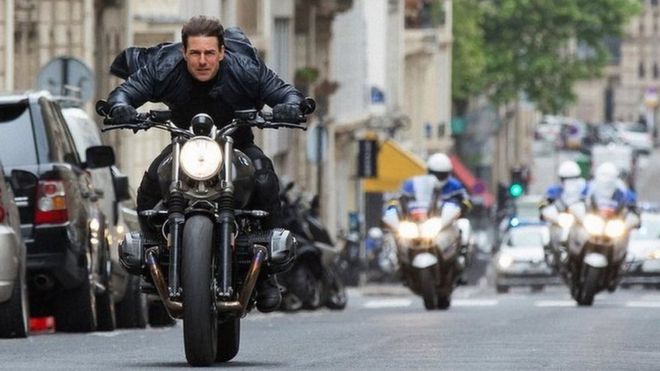 The Film:
As already mentioned and much like Spectre in the Bond franchise, Fallout is the first MI movie to be an actual sequel to the previous film, in this case Rogue Nation – which was excellent.  So it made sense to build on the foundations laid by it.  It does this fairly well but Fallout is a much bigger affair.  Whilst I thought Rogue Nation was quite cleverly understated Fallout really goes for the jugular.  At well over two hours twenty minutes it manages to fill most of it with action, sometimes at the expense of the more intricate plot twists and trickery that previous films had trademarked.  Some of the action is quite breathtaking but it did feel that it went a little over the top the longer it went on and to say that about a Mission Impossible movie is really something.  It didn't spoil it particularly – it could probably just have been condensed down a little.  The car chase through Paris is especially worthy of mention but there's other action sequences that are very pleasing on the eye.  One thing it did do, either intentionally or not, was to parody itself and this really didn't work.  Some light moments of humour worked but moments taking the mickey out of your own movie isn't the best idea for a movie of its type especially if you want to ramp up the tension.  The problem for this franchise is it can never win.  When it does one thing it gets criticised for not doing something else and when it does something else it still gets criticised.  There hasn't been a terrible movie in this series, only Ghost Protocol weighed in as average.  As long as Cruise makes these movies I'll certainly be interested.
The Verdict: 3/5 Stars – Mission accomplished but has done better
Mission: Impossible Fallout on IMDb
Mission: Impossible Fallout Official Website